Wizard Magic Studio Photo-Shoot Experience.
Get ready to experience a world where the magic is real.
From magical spells to magical creations, enjoy the thrills of our magical wizard experiences and more. You can be the daring hero, feel the power of our magical wands. See if you can disappear with our wizard cloaks. Everything is included all ready for you to enjoy.
Some product options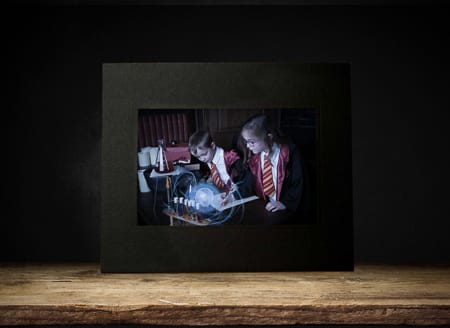 Art Mount A4 £135
4 x Art Mount A4 £400
Book A Time Now
£50 towards any Wall Art with all bookings.
You only need to book one appointment or buy one voucher per family.  
What Your Wizard Magic Photo-shoot Includes
🧙Wizard Outfit and Accessories (all ages 5-9 years)
🧙Our Wizard Studio Set with Magical Props
🧙 Full Fun Packed Photo Session
🧙Risbeys Unique Film Style Digital Image Enhancement
🧙£50 towards any wall Art with all bookings
🧙Stunning Viewing Experience with Refreshments
🧙Wizard Packages Available at Viewing