Risbeys Boudoir Photography
All of our boudoir photography gallery images are from client-based photo-shoots.
They are in styles of vintage, burlesque, bridal, sensual & sexy, provocative, modern and all totally gorgeous!
BOUDOIR PHOTO-SHOOT PRICE – ONLY £30
Why not surprise your partner with glamorous and sensuous boudoir photography images of you in your favourite lingerie, or for the ultimate confidence boost for yourself!
What we do is art
It's bespoke and its done with passion.
Our Boudoir photography package is ideal for anyone wishing to get a great selection of intimate shots and includes a mounted retouched print which makes a very personal gift.
Your Boudoir photo-shoot
The boudoir shoots are undertaken by us in our relaxed private studio. Safely with assured confidence in your surroundings, you can reveal the true you only to a point you feel comfortable with. Allow us to create a set of tasteful and provocative boudoir images.
On your return, you can sit back and enjoy reliving the full experience and with our help making your print choices or upgrade to an album or wall portrait. After selecting your images we will in-house retouched and airbrushed where necessary, guaranteeing tasteful and glamorous final images.
Our Makeup Team
One of the key and fun aspects about makeup are there is on a standard application to the styling. Most importantly our team will lease with you on the final feel and look. A natural or fresh even sexy smouldering look might be you. Been styled for a boudoir shoot or actually having one, isn't an everyday experience. 95 per cent of women will never of seen themselves styled posed in beautiful lingerie. You will have to be prepared to see yourself in a different glamorous light.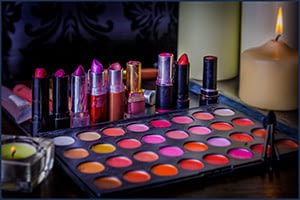 Boudoir Photography Make-up and lipsticks
A BOUDOIR PHOTO-SHOOT INCLUDES A FULL MAKEOVER BY A PROFESSIONAL MAKE-UP ARTIST
Book an appointment online now by choosing a date for the Calendar.
A £30 refundable deposit is needed on all boudoir appointment bookings. 48 hours notice must be given on all changes of appointment.
Cannot find the day you want? Weekends and other days can be booked for an extra non refundable £40 at the time of booking. The £40 can be used toward any order over £150 placed at the viewing. Our studio works by appointment only so just get in touch.
Professional hair & make-up
Two-hour Boudoir Photography photo-shoot in our private studio
4 Outfit changes
Consultation with our photographer/advice on what to wear
Direction on poses throughout your photo-shoot
Private viewing of approximately 35-45 images
An A5 retouched/airbrushed print
Retouching on all final prints/products ordered.
Refreshments if required!
Prices start at £30 special offers may apply throughout the year.
Facebook offers use Promo Code at checkout
please see our voucher page for all out different vouchers available.
Pricing examples
Digital Images
High-quality images on a USB with a licence to print.
7 images | £325
10 images | £375
15 images | £475
20 images | £575
All images | £725