Children's Enchanted Elf & Fairy Photo-shoot Experience.
Enchanted Elf & Fairy Photography
Photo-shoot now including an A5 gift image
For Ages 6 months to 9 years old
If you have a little one in the family or a friend with a child from the age of six months up to nine years old, this is a perfect photography experience for them. Who has ever dreamed of being the perfect fairy princess or lord of the elves (let's face it, which little girls and boys haven't) then you are in for a real treat with our amazing Enchanted Elf & Fairy Photography Portraits. Is your child just starting out in life, 6 months old and sitting up, well with our new fairy house and enchanted tree stump your little Cherub can enjoy finding the Fairies.
Looked After
We provide the wings and outfits for your fairy princess or little elf lord. It's like something straight out the movies. Pinewood no, even better our own special enchanted studio forest. All you need to do is bring their smiles.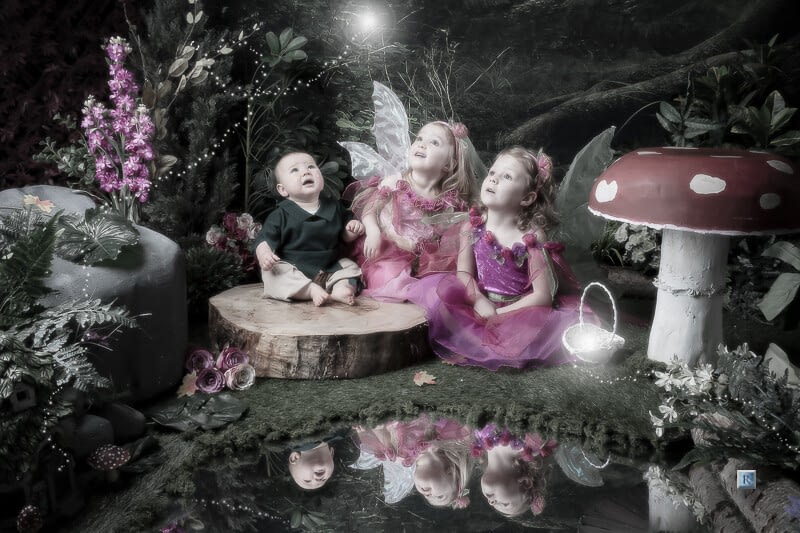 Leave the studio magic to us
We'll guide them through stunning poses, complete with butterflies, lanterns, our very special lilies with whirlpool pond and our enchanted toadstool. Let the magical transformation begin.
Your special viewing time
The studio viewing is an incredible time seeing our special fairy glows and a loving dose of fairy dust. Giving you images transformed into mouthwatering pieces of personal Enchanted Elf & Fairy art that will quite simply take your breath away. You will be able to choose from a wide range of products which you can treasure forever.
Just a few examples of some product prices
All Gift Voucher are valid for one year from purchase.
Covid-19 Extensions will apply.
Knowing an Enchanted shoot will make the ideal present, buy a voucher for someone now.
Stunning Enchanted Elf & Fairy Photography Voucher
We provide the wings and outfits for your fairy princess or little elf lord.
Private viewing of your Enchanted Images.
Includes A5 portrait art mounted and retouched print.
Free retouching on any further prints/products ordered.
Refreshments when required!
All the family are welcome to come to the photo shoot.
Voucher valid for one year.
Booking a time
You only need to book one appointment or buy one voucher per family. Having two or more siblings you just need one booking or voucher. Extended family bookings for grandparents including cousins only require one booking or voucher.